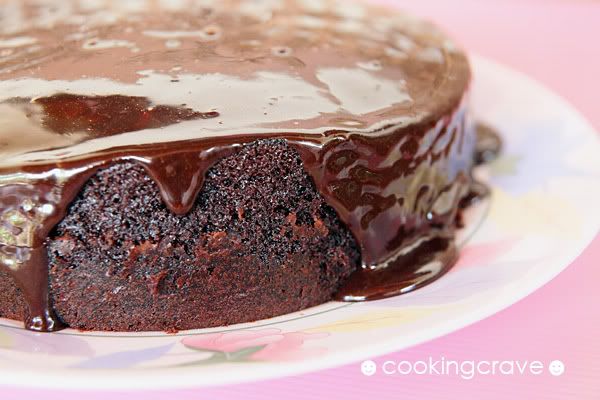 I've been busy in the past week, guess what I've been up to?? It's school first term holiday from 13th - 21st March and I've been spending the time with my kids, my hubby are back for holiday from Hanoi and my sister in law, nephew and nieces in KL come to visit us as well. I don't have much time to cook and baking at all ☻
I'm so sorry to keep all of you waiting for the recipe. This chocolate moist cake are my son's favourite and he has been asking me to bake this cake for him several time. We doesn't need to have an oven to get this cake done, all we need is just a steamer and it taste just as good. It's easy to prepare as well. If I'm going to rate this cake, it should be 5 stars rating - very yummy!!!


Here goes the recipe for this cake ☻

What you need:
180 g butter
200 g caster sugar
200 g full cream evaporated milk
2 eggs, slightly beaten with fork
100 g plain flour
50 g cocoa powder
1/2 tsp baking powder
1/2 tsp baking soda
1/2 tsp vanilla extract or 1 tsp vanilla essense
2 tbsp of rum (optional)


What to do!
Combine caster sugar, evaporated milk, vanilla extract or essense and butter in a saucepan.
Stir over low heat until sugar is dissolved and butter is melted, turn off the fire and keep warm.
Add the beaten eggs into the slightly cold evaporated milk mixture and stir till well mix.
Sift the flour, cocoa powder, baking powder and baking soda into a large mixing bowl, then pour the eggs mixture over the flour and stir till well mix (cake batter should be runny) ☻
Heat up the steamer.
Lined and greased a 8 or 9 inch round baking pan.
Pour the batter into the lined pan and place the pan into the steamer and cover the top of the pan loosely with a piece of aluminium foil.
Cover the steamer and steam over medium heat for 45 mins.
Cool the cake in pan before turning out for further decoration.
Chocolate Fudge Topping
200 g condense milk
1/2 tsp vanilla extract or 1 tsp vanilla essense
2 tbsp corn oil
20 g cocoa powder, sifted
a pinch of salt
Combine the sifted cocoa powder, condense milk and oil.
Stir over low heat till thicken.
Add in salt and vanilla extract or essense.
Cool the chocolate topping a little before spreading on the cake.
Refrigerated before serve it.

Notes
:
1. The sweetness of this cake are just nice, not too sweet and it's very chocolatey taste.
2. I did not line the cake pan, but i greased the pan generously with butter.
3. Boil a kettle of water as stand-by while steaming the cake. This is to top up the water in the steamer if it dries up…(Optional, but i find it useful…) ☻