Whenever I cooked this, my son will finished up 2 plates of rice or finished up all the shrimps in one meal. He is just a BIG fan of seafood. He loves shirmps, just cooked it in anyway - dried tomyam shirmp, assam shrimp and curry shrimp etc, the list goes on & on. When I found out that he got no appetite for food recently, due to his over-packed schedule at school - extra classes after school everyday, tuition classes to attend, school outdoor activities like sports and various society he joined ~ oh gosh!!! that's tiring and I'm tired as his driver as well. Actually, I cook this shrimp specially just for him (shhh!!!...don't let my 2 girls hear this )
He "finished" up all the food - not even a single rice left, I bring for him that day. I filled in extra more rice, 6 garlic shrimps, stir-fried cabbage, some sweet and sour fish that my mom cook in the bento
(lunchbox)
for him and include a bottle of cultured milk drink - Vitagen as well. Ya, this dish really boost up his appetite
(grinned happily..)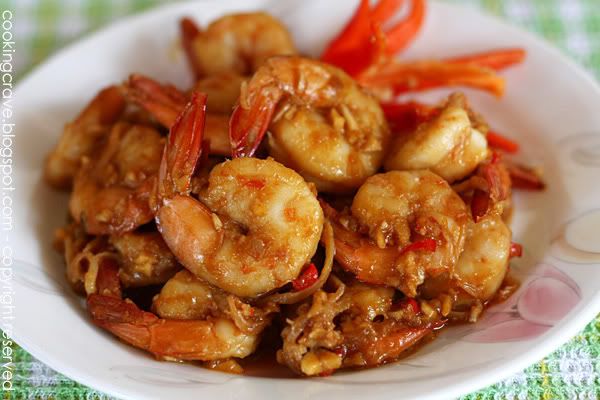 Sweet, yet mildly spicy and garlicky, it's the perfect dish. Here is recipe for this sumptuous & succulent garlic shirmp:
Ingredients
:
15-20 medium shrimp/prawns,
shelled-left only it's tail

2 tbsp oyster sauce
2 tbsp light soy sauce
1 tbsp fish sauce
1 tbsp brown sugar
7-8 cloves garlic,
minced

1 tbsp lime juice
2 tbsp oil for stir-frying
1 fresh red chili, minced
(optional)
- i use 1/2

For Garnishing:
lime or lemon, wedges
handful of fresh coriander

What to do!
If the shrimp are shelled or raw, remove all of the shell up to the tail
(leaving the tail on makes them easier to eat).
Devein the shrimp by running a sharp knife along the spine of the shrimp to remove the black "vein".
Marinade the shrimps with oyster sauce, soy sauce, fish sauce, brown sugar, minced garlic, lime juice and fresh chili
(if using).
Stir well to coat.
Heat some oil in a wok or frying pan. When it's hot, add the shrimp
(with the marinade).
Stir-fry 2-3 minutes, or until shrimp are plump and turn pink
(also lightly browned from the sauce).
Do not overcook it, or the shrimps will turn rubbery.
Garnish shrimps with lime wedges, some red chilies stripes and coriander leaves. Served warm with rice.
Notes
: Squeeze in more lime juice if prefer a more sourish taste and for those who loves spicy food, add in some
"chili paddy"
(small chilies
) chunks in it. My recipe up there are suitable for kids, very mildly spicy. No salt are added because the fish sauce, soy sauce and oyster sauce used produce the salty taste to the dish already.
Happy Cooking!