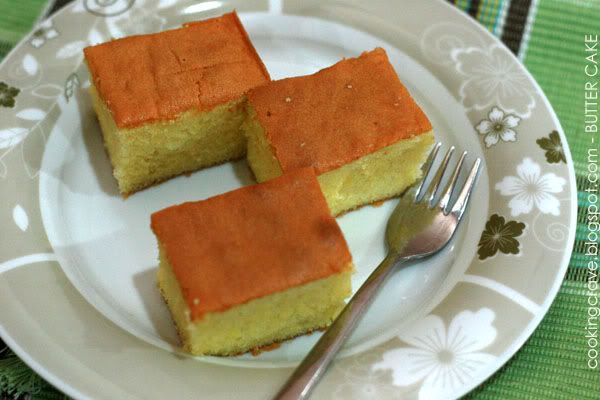 I have several recipes of Butter Cake and I found this one is the BEST among all. Moist, very buttery taste and soft. This butter cake recipe is definitely a keeper. Try it out and let me know the result ok? Each time when I get to know that there will be guest coming to visit me. Butter Cake will always be my first choice as I know it'll be well accepted by most of us. Kids love it so much, adults and elderly too.
It's perfect for tea-time while chit-chating with group of friends ~ yum...yum!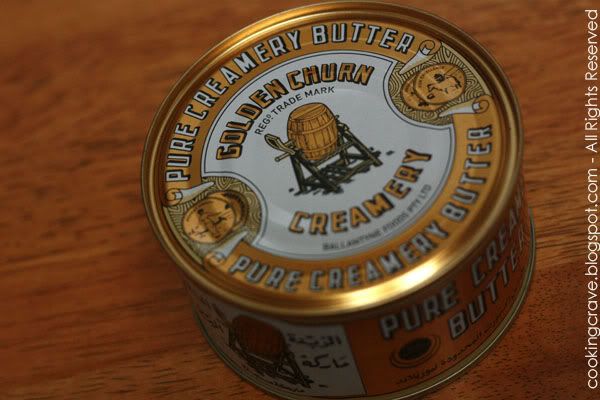 My favourite butter brand for baking...!


Separate the egg whites and egg yolks into 2 different bowls
Ingredients:

(A)
250 gm Butter
(I prefer SCS or Golden Churn Brand) - softened

85 gm Castor Sugar
1 tsp Vanilla Essense
A pinch of Salt
4 Egg Yolks
1 tbsp Milk
200 gm Cake Flour
(if self-raising flour are used, just omit the 5 gm baking powder)
5 gm/ 1 tsp Baking Powder
(B)
4 Egg Whites
85 gm Castor Sugar
Method:

Preheat oven at 175'c. Grease or line the 8" baking pan.
Sifted together flour and baking powder. Set aside.
Beat together butter, sugar, salt and vanilla essense until creamy and light with mixer.
Add in egg yolks, one at a time and beat until creamy. Add in milk and mix well.
Fold in the sifted flour slowly spoon by spoon into mixture till well mixed.
In a separate clean bowl, whisk eggs whites till foamy then add in sugar gradually. Beat to a soft peak and fold 1/4 into butter mixture. Mix well and fold in the rest.
Pour batter into baking pan and bake at 175'c for about 40-45 mins or until cooked

(insert a skewer in the middle of the cake and it come out clean)
p/s: I bake bigger cake using 25" x 30" retangular cake pan and use 1 1/2 recipe stated above. I bake my cake at 160'c as my oven temperature tend to get too warm and will burn top of my cake.
HAPPY BAKING!
AMY