In less than one month's time we'll be celebrating CNY. As usual I will bake some cookies & cakes for this special occasion. For the love of baking, I prefer to bake my own cookies to share with my family & friends. Here are my first batch of cookies baked by me - Crispy Cashewnut Cookies, one of the must have cookies for CNY. My kids they just love it so much. A very crispy & buttery taste cookies topped with cashewnut. Yummy!!
Crispy Cashewnut Cookies's Recipe
- adapted & editted from Agnes Chang's Baking Made Easy
Ingredients A:
240g butter/margarine (I use Golden Churn Butter)
100g castor sugar
1 egg yolk
1/2 tsp vanilla essence
1/2 tsp salt
Ingredients B (sifted):
350g plain flour
20g custard powder
Decoration:
100g cashewnuts, halved
1 egg, mixed with pinch of salt, beaten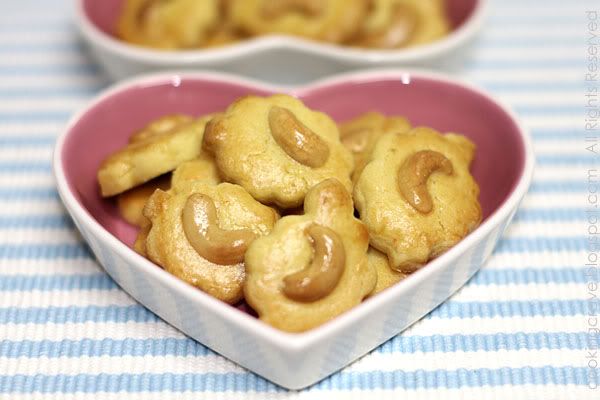 Method:
Cream A till just combined. Mix in B to form into a pliable dough.
Place dough in between 2 sheets of plastic, roll into 1/2 cm thick. Cut into the shapes you preferred using a cookie cutter.
Place onto a baking tray lined with baking paper. Press a half cashewnut on top of cookies and glaze it with beaten egg.
Bake cookies in pre-heated oven at 180c for about 20mins till golden brown. Remove from oven.
Cool completely before storing.
p/s : The cookies are soft when it's still warm. Make sure it's completely cool before remove the cookies from the baking tray.
AMY